The Hunger Games: Mockingjay - Part 2
PG-13
for intense sequences of violence and action, and for some thematic material


Jennifer Lawrence, Josh Hutcherson

-

2 hr. 16 mins.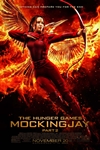 With the nation of Panem in a full scale war, Katniss confronts President Snow in the final showdown. Teamed with a group of her closest friends - including Gale, Finnick and Peeta - Katniss goes off on a mission with the unit from District 13 as they risk their lives to liberate the citizens of Panem, and stage an assassination attempt on President Snow who has become increasingly obsessed with destroying her. The mortal traps, enemies, and moral choices that await Katniss will challenge her more than any arena she faced in The Hunger Games.
Official Site
Trailer
---
By the Sea
R
for strong sexuality, nudity, and language


Angelina Jolie, Brad Pitt

-

2 hr. 2 mins.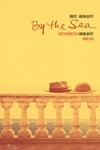 A married couple takes a vacation in France in the 1970s and find that their time in a sleepy seaside town, complete with a unique array of locals, strengthens their bond and reaffirms their marriage.
Official Site
Trailer
---
The Peanuts Movie
G



Noah Schnapp, Hadley Belle Miller

-

1 hr. 33 mins.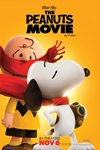 Charlie Brown, Snoopy, Lucy, Linus and the rest of the beloved "Peanuts" gang make their big-screen debut, like they've never been seen before, in state of the art 3D animation. Charlie Brown, the world's most beloved underdog, embarks upon an epic and heroic quest, while his best pal, the lovable beagle Snoopy, takes to the skies to pursue his arch-nemesis, the Red Baron.
Official Site
Trailer
---
Spectre
PG-13
for intense sequences of action and violence, some disturbing images, sensuality and language


Daniel Craig, Christoph Waltz

-

2 hr. 28 mins.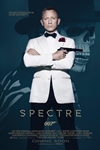 A cryptic message from Bond's past sends him on a trail to uncover a sinister organisation. While M battles political forces to keep the secret service alive, Bond peels back the layers of deceit to reveal the terrible truth behind Spectre.
Official Site
Trailer
---
Spotlight
R



Mark Ruffalo, Michael Keaton

-

2 hr. 7 mins.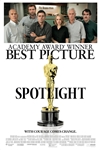 This film tells the riveting true story of the Pulitzer Prize-winning Boston Globe investigation that would rock the city and cause a crisis in one of the world's oldest and most trusted institutions. When the newspaper's tenacious "Spotlight" team of reporters delves into allegations of abuse in the Catholic Church, their year-long investigation uncovers a decades-long cover-up at the highest levels of Boston's religious, legal, and government establishment, touching off a wave of revelations around the world. This tense investigative dramatic-thriller traces the steps to one of the biggest cover-ups in modern times.
Official Site
Trailer
---
Trumbo
R
for language including some sexual references


Bryan Cranston, Diane Lane

-

2 hr. 4 mins.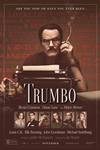 In 1947, Dalton Trumbo was Hollywood's top screenwriter until he and other artists were jailed and blacklisted for their political beliefs. The film recounts how Dalton used words and wit to win two Academy Awards and expose the absurdity and injustice under the blacklist, which entangled everyone from gossip columnist Hedda Hopper to John Wayne, Kirk Douglas and Otto Preminger.
Official Site
Trailer
---
Brooklyn
PG-13
for a scene of sexuality and brief strong language


Saoirse Ronan, Domhnall Gleeson

-

1 hr. 45 mins.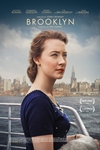 Eilis Lacey is a young Irish immigrant navigating her way through 1950s Brooklyn. Lured by the promise of America, Eilis departs Ireland and the comfort of her mother's home for the shores of New York City. The initial shackles of homesickness quickly diminish as a fresh romance sweeps Eilis into the intoxicating charm of love. But soon, her new vivacity is disrupted by her past, and she must choose between two countries and the lives that exist within.
Official Site
Trailer
---
Bridge of Spies
PG-13
for some violence and brief strong language


Tom Hanks, Mark Rylance

-

2 hr. 15 mins.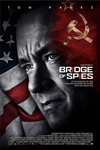 The story of James Donovan, a Brooklyn lawyer who finds himself thrust into the center of the Cold War when the CIA sends him on the near-impossible task to negotiate the release of a captured American U-2 pilot.
Official Site
Trailer
---
Room
R
for language


Brie Larson, Jacob Tremblay

-

1 hr. 58 mins.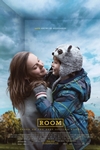 A unique and touching exploration of the boundless love between a mother and her child. After 5-year- old Jack and his Ma escape from the enclosed surroundings that Jack has known his entire life, the boy makes a thrilling discovery: the outside world. As he experiences all the joy, excitement, and fear that this new adventure brings, he holds tight to the one thing that matters most of all-his special bond with his loving and devoted Ma.
Official Site
Trailer
---