Planes: Fire & Rescue
PG
for action and some peril.


Dane Cook, Ed Harris

-

1 hr. 24 mins.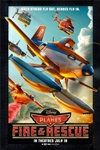 A new comedy-adventure about second chances, featuring a dynamic crew of elite firefighting aircraft devoted to protecting historic Piston Peak National Park from raging wildfire. When world famous air racer Dusty learns that his engine is damaged and he may never race again, he must shift gears and is launched into the world of aerial firefighting. Dusty joins forces with veteran fire and rescue helicopter Blade Ranger and his courageous team, including spirited super scooper Dipper, heavy-lift helicopter Windlifter, ex-military transport Cabbie and a lively bunch of brave all-terrain vehicles known as The Smokejumpers. Together, the fearless team battles a massive wildfire and Dusty learns what it takes to become a true hero.
Official Site
Trailer
---
Dawn of the Planet of the Apes
PG-13
for intense sequences of sci-fi vioelnce and action, and brief strong language


Andy Serkis, Jason Clarke

-

2 hr. 10 mins.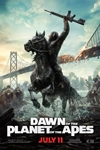 A growing nation of genetically evolved apes led by Caesar is threatened by a band of human survivors of the devastating virus unleashed a decade earlier. They reach a fragile peace, but it proves short-lived, as both sides are brought to the brink of a war that will determine who will emerge as Earth's dominant species.
Official Site
Trailer
---
Begin Again
R
for language


Keira Knightley, Mark Ruffalo

-

1 hr. 41 mins.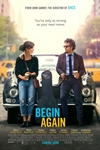 This is a soul-stirring comedy about what happens when lost souls meet and make beautiful music together. Gretta and her long-time boyfriend Dave are college sweethearts and songwriting partners who decamp for New York when he lands a deal with a major label. But the trappings of his new-found fame soon tempt Dave to stray, and a reeling, lovelorn Gretta is left on her own. Her world takes a turn for the better when Dan, a disgraced record-label exec, stumbles upon her performing on an East Village stage and is immediately captivated by her raw talent. From this chance encounter emerges an enchanting portrait of a mutually transformative collaboration, set to the soundtrack of a summer in New York City.
Official Site
Trailer
---
Jersey Boys
R
for language thoughout


Christopher Walken, Vincent Piazza

-

2 hr. 14 mins.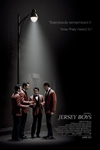 The film tells the story of four young men from the wrong side of the tracks in New Jersey who came together to form the iconic 1960s rock group The Four Seasons. The story of their trials and triumphs are accompanied by the songs that influenced a generation, including "Sherry," "Big Girls Don't Cry," "Walk Like a Man," "Dawn," "Rag Doll," "Bye Bye Baby," "Who Loves You," and many more.
Official Site
Trailer
---
Third Person
R
for language and some sexuality/nudity


Liam Neeson, Mila Kunis

-

2 hr. 10 mins.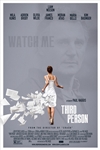 Three couples in three cities find love and heartbreak in three interlocking stories. A married writer and a single girl sadistically toy with each other in Paris, a corporate thief on the run from the law meets a beautiful gypsy woman in Rome and a failed soap star wages a custody battle for the son she endangered in New York.
Official Site
Trailer
---
Chef
R
for language, including some suggestive referneces


Jon Favreau, Sofia Vergara

-

1 hr. 55 mins.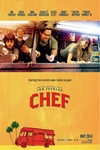 Chef Carl Casper suddenly quits his job at a prominent Los Angeles restaurant after refusing to compromise his creative integrity for its controlling owner, he is left to figure out what's next. Finding himself in Miami, he teams up with his ex-wife, his friend and his son to launch a food truck. Taking to the road, Chef Carl goes back to his roots to reignite his passion for the kitchen -- and zest for life and love.
Official Site
Trailer
---
Belle
PG
for thematic elements, some language and brief smoking images


Gubu Mbatha-Raw, Tom Wilkinson

-

1 hr. 45 mins.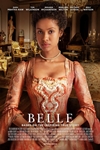 This film is inspired by the true story of Dido Elizabeth Belle, the illegitimate mixed race daughter of Admiral Sir John Lindsay. Raised by her aristocratic great-uncle Lord Mansfield and his wife, Belle's lineage affords her certain privileges, yet her status prevents her from the traditions of noble social standing. While her cousin Elizabeth chases suitors for marriage, Belle is left on the sidelines wondering if she will ever find love. After meeting an idealistic young vicar's son bent on changing society, he and Belle help shape Lord Mansfield's role as Lord Chief Justice to end slavery in England.
Official Site
Trailer
---
Ida
PG-13
for thematic elements, some sexuality and smoking


Agata Kulesza, Agata Trzebuchowska

-

1 hr. 20 mins.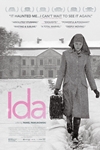 Poland 1962. Anna is a beautiful eighteen-year-old woman, preparing to become a nun at the convent where she has lived since orphaned as a child. She learns she has a living relative she must visit before taking her vows, her mother's sister Wanda. Her aunt, she learns, is not only a former hard-line Communist state prosecutor notorious for sentencing priests and others to death, but also a Jew. Anna learns from her aunt that she too is Jewish - and that her real name is Ida. This revelation sets Anna, now Ida, on a journey to uncover her roots and confront the truth about her family. Together, the two women embark on a voyage of discovery of each other and their past. Ida has to choose between her birth identity and the religion that saved her from the massacres of the Nazi occupation of Poland. And Wanda must confront decisions she made during the War when she chose loyalty to the cause before family.
Official Site
Trailer
---