Exodus: Gods and Kings
PG-13
for violence including battle sequences and intense images


Christian Bale, Joel Edgerton

-

2 hr. 22 mins.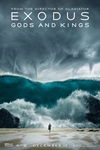 Moses rises up against the Egyptian Pharaoh Ramses, setting 600,000 slaves on a monumental journey of escape from Egypt and its terrifying cycle of deadly plagues.
Official Site
Trailer
---
Wild
R
for sexual content, nudity, drug use, and language


Reese Witherspoon, Laura Dern

-

1 hr. 55 mins.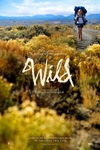 After years of reckless behavior, a heroin addiction and the destruction of her marriage, Cheryl Strayed makes a rash decision. Haunted by memories of her mother Bobbi and with absolutely no experience, she sets out to hike more than a thousand miles on the Pacific Crest Trail all on her own. This film powerfully reveals her terrors and pleasures --as she forges ahead on a journey that maddens, strengthens, and ultimately heals her.
Official Site
Trailer
---
Foxcatcher
R
for some drug use and a scene of violence


Channing Tatum, Steve Carell

-

2 hr. 14 mins.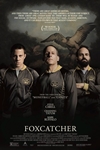 Olympic Gold Medal-winning wrestler Mark Schultz is struggling in obscurity and poverty in Wisconsin when he is invited by wealthy heir John du Pont to move on to his lavish estate to form a team and to train for the 1988 Seoul Olympics. Schultz seizes the opportunity, eager to step out of the shadow of his revered older brother Dave, a prominent wrestling coach and Gold Medal winner himself. With his vast financial resources and state-of-the-art training facility at Foxcatcher Farm, du Pont appoints himself head coach of the team, eager to win the respect of his peers and the approval of his condemning mother. The dynamic between Schultz and du Pont deepens as Mark embraces his benefactor as a father figure. But du Pont's mercurial personality and psychological gameplay begins to weigh heavily on Mark's shaky self-esteem, undermining his abilities on the mat. When du Pont's favoritism shifts to brother Dave - who possesses the authority and confidence both he and Mark lack -the trio is propelled towards a tragedy no one could have foreseen.
Official Site
Trailer
---
The Theory of Everything
PG-13
for some thematic elements and suggestive material


Eddie Redmayne, Felicity Jones

-

2 hr. 3 mins.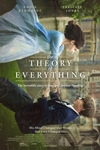 This is the extraordinary story of one of the world's greatest living minds, the renowned astrophysicist Stephen Hawking, who falls deeply in love with fellow Cambridge student Jane Wilde. Once a healthy, active young man, Hawking received an earth-shattering diagnosis at 21 years of age. With Jane fighting tirelessly by his side, Stephen embarks on his most ambitious scientific work, studying the very thing he now has precious little of - time. Together, they defy impossible odds, breaking new ground in medicine and science, and achieving more than they could ever have dreamed
Official Site
Trailer
---
Force Majeure (Turist)
R
for some language and brief nudity


Johannes Kuhnke, Lisa Loven Kongsli

-

2 hr. 0 mins.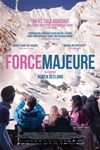 A model Swedish family-handsome businessman Tomas, his willowy wife Ebba, and their two blond children- embark on a skiing holiday in the French Alps. The sun is shining and the slopes are spectacular but during a lunch at a mountainside restaurant an avalanche suddenly bears down on the happy diners. With people fleeing in all directions and his wife and children in state of panic, Tomas makes a decision that will shake his marriage to its core and leave him struggling to reclaim his role as family patriarch.
Official Site
Trailer
---
Birdman
R
for language throughout, some sexual content and brief violence


Michael Keaton, Zach Galifianakis

-

1 hr. 59 mins.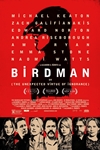 This film is a black comedy that tells the story of an actor - famous for portraying an iconic superhero-as he struggles to mount a Broadway play. In the days leading up to opening night, he battles his ego and attempts to recover his family, his career, and himself.
Official Site
Trailer
---
St. Vincent
PG-13
for mature thematic material including sexual content, alcohol and tobacco use, and for language


Melissa McCarthy, Bill Murray

-

1 hr. 43 mins.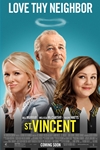 Maggie, a single mother, moves into a new home in Brooklyn with her 12-year old son, Oliver. Forced to work long hours, she has no choice but to leave Oliver in the care of their new neighbor, Vincent, a retired curmudgeon with a penchant for alcohol and gambling. An odd friendship soon blossoms between the improbable pair. Together with a pregnant stripper named Daka, Vincent brings Oliver along on all the stops that make up his daily routine - the race track, a strip club, and the local dive bar. Vincent helps Oliver grow to become a man, while Oliver begins to see in Vincent something that no one else is able to: a misunderstood man with a good heart.
Official Site
Trailer
---
Whiplash
R
for strong language including some sexual references


Miles Teller, J.K. Simmons

-

1 hr. 45 mins.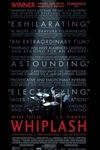 Andrew Neyman is an ambitious young jazz drummer, single-minded in his pursuit to rise to the top of his elite east coast music conservatory. Plagued by the failed writing career of his father, Andrew hungers day and night to become one of the greats. Terence Fletcher, an instructor equally known for his teaching talents as for his terrifying methods, leads the top jazz ensemble in the school. Fletcher discovers Andrew and transfers the aspiring drummer into his band, forever changing the young man's life. Andrew's passion to achieve perfection quickly spirals into obsession, as his ruthless teacher continues to push him to the brink of both his ability-and his sanity.
Official Site
Trailer
---